Got distracted by clothes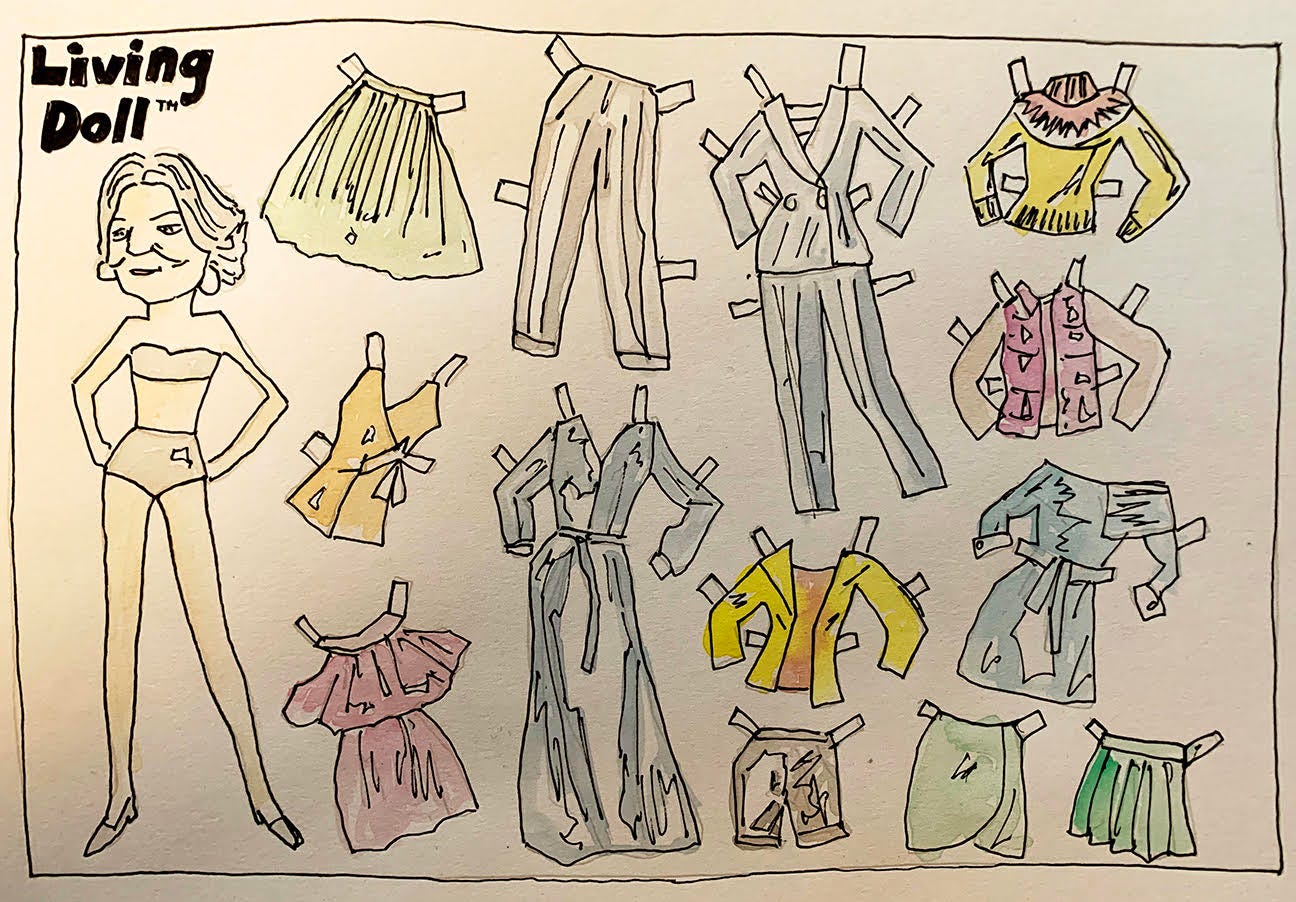 There is a small thrift store up the street from our house that we go to most weekends, part of our neighborhood rounds. There must be several rich men with a trim frame and broad shoulders dropping off regularly, because Matt cleans up most weeks. He's nabbed beautiful wool sweaters, a Dior raincoat, a Prada suit.
I like to look through the tie rack — last week I found him a Hermes tie with little tigers on it — but I usually bypass the women's section altogether unless I quickly paw through the jackets. I rarely find anything: most of the women's clothes in this shop are tiny, and if the size tag doesn't turn me off, the price tag generally does.
I used to shop a lot, all the time. Before work, after work, during lunch, all weekend. Buying a new shirt was a dopamine hit, and I went to resale shops and discount department stores and fast fashion stores, looking for a mood change. I would try on everything in my size (not much, usually) and buy anything that flattered. I got a lot of cool clothes this way — a vintage wool A-line skirt, a hectic-print jacket, a plaid jumpsuit — and a lot of duds, too, mostly fast fashion that shrunk to an unwearable size after the first wear. The frequent shopping led me to dress more experimentally than I do today, and with more care. I remember lots of outfit changes and preening in front of the mirror. Sitting here in the same jeans I wear everyday and a shirt I've worn for years, it's hard to believe that I used to try so hard, but old pictures remind me that I tried to figure out who I was, with clothes.
The twist: I couldn't afford to do this, and once I stopped carrying credit cards, I stopped shopping, too, the allure of a sartorial pick-me-up overshadowed by the reality of it costing real money.
And so my style has settled into my post-shopping look, my uniform. Dark blue stretchy skinny jeans, brown lace-up boots, an oversized button-up shirt, and my black leather jacket. As I'm writing this, I'm thinking, "well that sounds pretty cool, actually," and sometimes it feels cool, but mostly it just feels like the clothes I wear in the absence of choosing clothes. (Matt tells me Barack Obama had several of the same suit so he didn't have to choose – perhaps I'm in good company.) Any clothes shopping I do now is to replace or duplicate items I already own.
Ten years ago, I spent a holiday season working at J.Crew, and during my tenure there I got a lot of really nice stuff that I never would have considered if I'd had to pay full price: silk and wool and sequins, skirts and suits and blazers. I got rid of the last two surviving pieces from that haul when Matt and I moved back to New York from California 18 months ago: peach suede heels that I wore to weddings for years and a short navy silk caftan that had been my party go-to. They had to go, they'd both been worn to shreds, but it was hard to do. I could remember them in their initial glory, and they were the last vestiges of that old playful style, and maybe that old playful me.
Now occasions calling for anything other than the uniform shake my confidence. The day before I interviewed for the job I have now, I spent a very harrowing hour in a J.Crew picking out an outfit, eventually settling on a black suit-dress and a camel blazer. It's a very good outfit, and now that my silk blue caftan is gone, it's one of my only elevated options. But is it me? I don't know! I find myself craving something new. I've been browsing online a bit, following some style bloggers with a similar body shape to see what looks I'm drawn to. I waste a lot of time on a lot of things, but this one — finding a style — I'm really resisting, it feels silly, indulgent. I always default back to the uniform, but right now I'm craving a change. I don't think I'll find it online. Maybe I'll find it in the thrift store this weekend.
---
Watercolor by Matt Davis