Got distracted by a wedding dress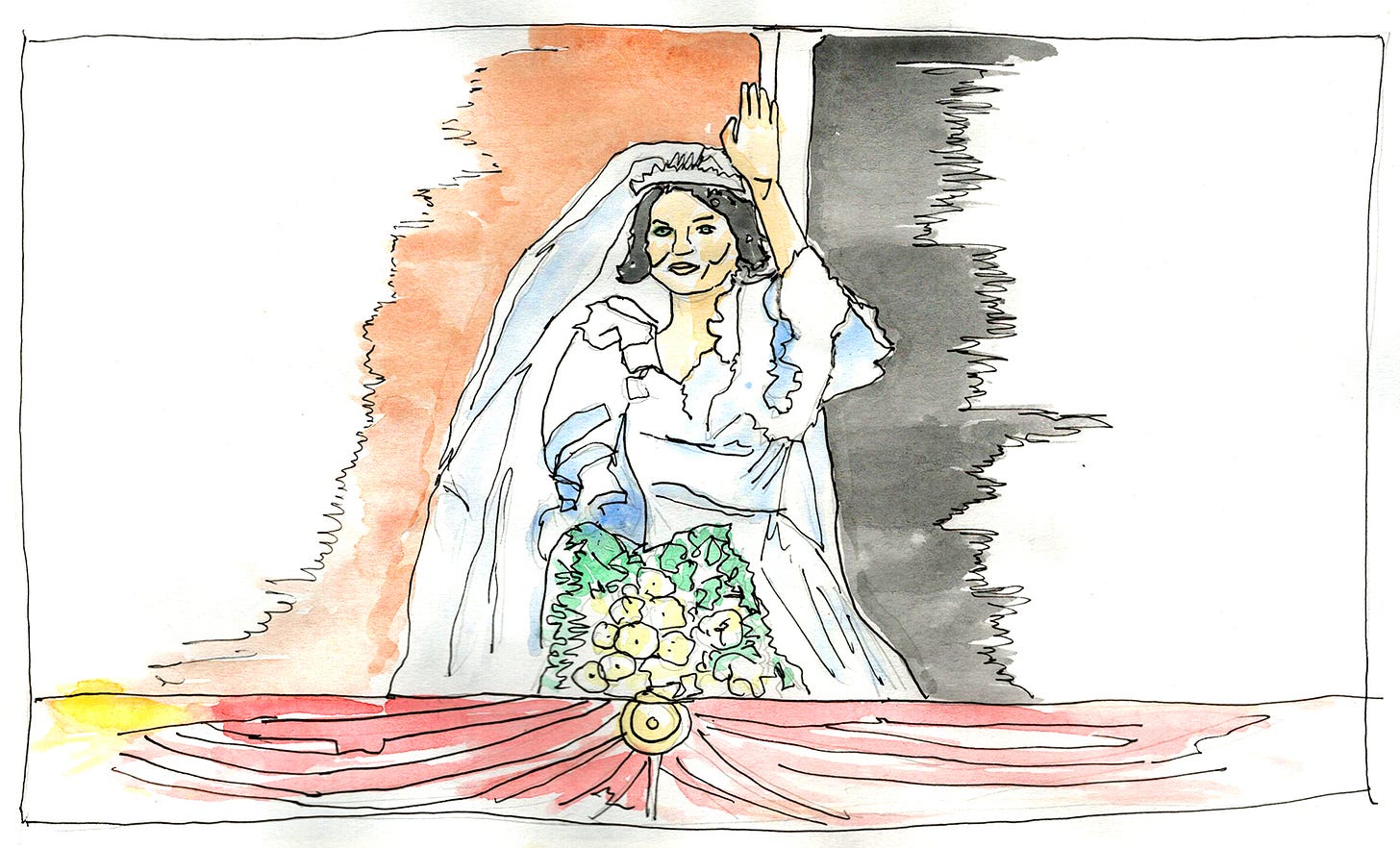 Matt and I got engaged in November. He asked me to be his wife on our three-year anniversary, gave me a beautiful emerald ring while we were eating cacio e pepe at the bar of our favorite restaurant. It was very romantic, I was very happy. We then had a few weeks of being very happy, very blissful, very excited for our future together, before either of us realized that we now had to plan a wedding. 
This part has been...less blissful...as it involves cultural and familial expectations, discussions of money, many decisions big and small. But Matt and I are quite good at making decisions together, and within a few weeks we had made some: we would be married in a small ceremony in New York with my family, then fly to London to celebrate with Matt's family. (It's so simple to type that now, I have almost convinced myself that it was actually quite simple to decide, that I didn't agonize over our decision not include our very extended families,  all of our friends, our parents' friends. I did agonize! But this was the right decision for us, so right that it now seems simple, revisionist history, but that's okay.) 
And then I started looking for a dress, a decision that only I could make — a problem, nothing simple at all about it.  
What looking for a dress looked like: a supercut of real-life dress montages —floral dresses, blue dresses, white dresses, black dresses, lace dresses, tulle dresses, silk dresses, short dresses, tea-length dresses, long dresses, fitted dresses, sack dresses. Dresses tried on in bridal showrooms, in bridal chains, in designer boutiques, in every manner of department store, in my apartment, in my parents' house. Dresses tried on alone, with my family, with friends, with Matt. And between it all, scrolling, scrolling, scrolling, dress after dress on my phone — added up, how long would all the scrolling be? Hours, certainly. Days, possibly.
Why was this so hard? A few reasons, thanks for asking. I don't really know my style. I wear jeans everyday and hardly shop for clothes, any elevated look is difficult for me: job interviews, other people's weddings. I never know what I like, what looks good on me. And then: because I mostly just wear jeans, putting on any dress felt like a costume. I didn't feel like myself in anything I tried on. And finally: I'd never imagined myself as a bride, felt surprised that I had ended up in the position to be one, didn't have an image of myself in a gown and a veil that I was trying to match. Meghan, Kate, Diana — bridal. Me? I just wanted to look nice. But okay, also special, and maybe a little bridal, a wink of bridal. 
A line from When Harry Met Sally: Harry tells Sally that there are two kinds of women: high maintenance and low maintenance. Which kind am I, she asks. "You're the worst kind: you're high maintenance but you think you're low maintenance." 
I'm the worst kind — I'm high maintenance but I think I'm low maintenance. I thought I just wanted to wear any old dress, oh no wedding gown for me, just something simple from the shop down the way, I'm easy. In reality I brought great stress into my household in search of something to throw on for the day we got married. 
In the end, I found it, the perfect thing. Not a gown but a full ankle-length skirt and a beaded top, both white. Not so un-bridal after all, but very pretty. Every person I've shown a photo to has said something that I've taken as the highest compliment: you look like yourself. And I do. I am very happy with it. I open my phone every so often just to check that I still like it, I do. I feel very relaxed now, can feel the anxiety of the search slipping away. Excited to marry Matt in a small ceremony, wearing an outfit I just picked up at the shop. 
---
Watercolor by Matt Davis